Posts for tag: tooth loss
By Central Florida Cosmetic & Family Dentistry
June 09, 2017
How dental implants from Kissimmee can restore your smile
If you have a gap between your teeth due to tooth loss, you can restore your full smile with a dental implant. You may know someone with dental implants who raves about how wonderful they are. Dental implants are wonderful, and it's time for you to discover their benefits and how they can fill the gap in your smile. Dr. Adel Mansour at Central Florida Cosmetic & Family Dentistry in Kissimmee, FL, wants to introduce you to dental implants.
Dental implants are the state-of-the-art method to replace lost teeth. The dental implant screw is made from titanium, which fuses with your bone, so your implant is firmly fixed in place. The dental implant crown is made of high-tech dental materials that resist staining so your dental implants stay beautiful even if you smoke and drink coffee! They will also never decay and can last a lifetime with proper care.
Your dental implants will also provide:
Stability, because they are firmly embedded in bone so they won't move; after they are placed, they even help you grow more bone to fuse with them
Oral health, because you can brush and floss them in place, just like your natural teeth
Convenience, because you never have to remove them and you can eat the foods you love without worrying about your teeth moving around
Dental implant treatment begins with the placement of the dental implant screw, during a simple procedure performed right in the office. After a healing period, Dr. Mansour will place a beautiful implant crown on top of the implant screw, giving you a permanent, natural-looking addition to your smile.
Dental implants allow you to replace a single missing tooth or multiple missing teeth; they can even support a denture, providing you with increased support for your existing dental appliance.
If you have a gap in your teeth, why not choose tooth replacement that boasts outstanding success rates, with results that can last a lifetime? For more information about dental implants and what they can do for your smile, call Dr. Adel Mansour at Central Florida Cosmetic & Family Dentistry in Kissimmee, FL. Get started on your new smile by calling today!
By Central Florida Cosmetic & Family Dentistry
October 16, 2015
Are you one of the over 178 million Americans who is currently missing one or more teeth? If so, chances are you want to have your tooth replaced as soon as possible. After all, your teeth aren't just used for chewing. They are also essential for speaking, smiling and
putting your best face forward every time you meet someone new.
Thankfully, whether you are missing one tooth or many, you have several options available to you when you visit Adel Mansour, D.D.S. at Central Florida Cosmetic & Family Dentistry in Kissimmee. A caring and professional dentist with your best interests at heart, Dr. Mansour will help you find the option that is right for you.
Dentures or Partial Dentures
For people with multiple missing teeth, dentures may be a good option. Dentures are a removable tooth replacement option that allow you to eat, speak and smile with confidence, knowing that your smile will always look great. Dentures need to be replaced by your Kissimmee dentist every five to seven years on average to ensure a proper fit.
Bridges
A semi-permanent tooth restoration option, bridges replace missing teeth by suspending them between the two teeth on the surrounding sides. Bridges are not removable, but they do need to be replaced every five to fifteen years.
Dental Implants
The gold standard of tooth replacement, dental implants provide a long-lasting, durable and reliable option. Dental implants replace one or more missing teeth by attaching securely to the jaw bone. The result is a new tooth or set of teeth that are up for anything. Smile, kiss, chat and enjoy all of your favorite foods once again; your dental implants can handle it.
With dental implants, you can eat anything you want - there are no restrictions and you don't have to worry about breaking them or knocking them loose. Dental implants are not removable, so you don't have to take them out to clean them, and they don't require any special maintenance or cleaning products. Plus, dental implants are permanent. Take good care of them and they will last a lifetime.
No matter how many teeth you are missing or why they are gone, you deserve to look and feel your best. Call your Kissimmee dentist, Dr. Mansour, to find out more about your tooth replacement options and which one might be best for you today.
By Central Florida Cosmetic & Family Dentistry
May 30, 2014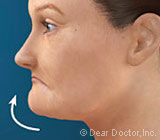 There's more to tooth loss than you might think. Because teeth are part of a larger system that facilitates speaking, eating and digestion, a lost tooth could eventually affect your overall health.
Tooth loss is actually about bone loss. As living tissue, bone continually reforms in response to stimuli it receives from the body. The alveolar bone (which surrounds and supports the teeth) receives such stimuli as the teeth chew and bite, as well as when they contact each other. All these stresses — hundreds a day — transmit through the periodontal ligament to the bone, stimulating it to grow and remodel.
A lost tooth reduces this stimulation and causes the alveolar bone to resorb (dissolve) — as much as 25% of its width the first year alone. Unless the process is stopped, the underlying basal bone and the periodontal (gum) tissue will begin to resorb too. Without this structural support the facial height shrinks and the front teeth begin to push forward, making chewing and speaking more difficult. These teeth begin performing functions outside their normal range, leading to damage and possible loss.
The primary goal of oral hygiene and dental care is to prevent tooth loss. When tooth loss does occur, however, it's then important to restore the lost tooth with an artificial replacement if at all possible — not only to regain form and function, but to also stop further bone loss.
While the fixed partial denture (FPD), also known as a fixed bridge, has been the restoration of choice for many decades, dental implants may be the better long-term option. Although more expensive initially, implants can achieve a life-like restoration without involving or altering adjacent teeth as with FPDs. Plaque retention and tartar accumulations are much less likely with an implant, and the bone-loving quality of titanium, the metal used for implants, actually encourages bone growth. As a result, implants have a much higher longevity rate than FPDs.
Taking care of your teeth through effective hygiene practices and regular checkups may help you avoid tooth loss altogether. But if it can't be avoided, restoring lost teeth is the single most important thing you can do to prevent even greater problems down the road.
If you would like more information on dental implants, please contact us or schedule an appointment for a consultation. You can also learn more about this topic by reading the Dear Doctor magazine article "The Hidden Consequences of Losing Teeth."