Posts for: December, 2018
By Central Florida Cosmetic & Family Dentistry
December 08, 2018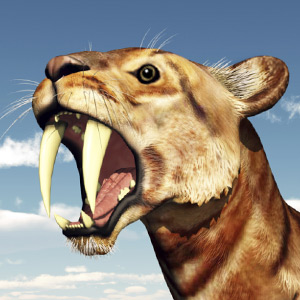 What do young saber tooth tigers, which have been extinct about 10,000 years, have in common with human kids today? At first glance, not a lot. Smilodon fatalis, the big cat of North America, reached adulthood at around age three and weighed up to 600 pounds. But these ice-age mammals are probably best known for their dagger-like canine teeth, which (as shown by many well-preserved skeletons) grew up to 7 inches long. And that's where the comparison between kids and kitties gets interesting.
The toothy felines had primary (baby) teeth and adult teeth, which developed in a similar way to human dentition. The primary teeth came in first, persisted during the young cat's development, and shared space in the mouth as the adult teeth were erupting (growing in) — with one big difference. According to a recent study reported in the academic journal PLOS ONE, those colossal canines grew at an astonishing rate: up to 6 millimeters per month! By comparison, human primary teeth emerge from the gums at around 0.7mm per month, while permanent teeth may grow up to 2mm per month.
It's understandable why those tiger teeth developed so rapidly: Life in the Ice Age was hard, and predators needed every advantage just to stay alive. But while human baby teeth take longer to develop (and to go away), they, too, are vitally important. For one thing, the primary teeth let kids bite, chew, speak (and smile) properly, until they are replaced by adult teeth — a process that isn't usually finished until a child reaches the age of 12-13. So those "baby" teeth allow kids to have good nutrition — and positive social interactions — for a significant part of childhood!
There's another important thing primary teeth do before they're gone: They help ensure that the succeeding teeth come in properly, by holding a space in the jaw that will later be filled by a permanent tooth. If baby teeth are lost prematurely, those spaces can close up, resulting in permanent teeth that emerge too close together, or in the wrong places. This condition, called malocclusion (bad bite), can usually be corrected by orthodontics. But it's better to avoid the inconvenience (and cost) of braces, if possible.
That's why it's so important to take care of your child's baby teeth. Even though they won't be around forever, they have a vital role to play right now. So be sure proper attention is paid to your child's oral hygiene: That means avoiding sugar, and remembering to brush and floss every day. And be sure to come in regularly for routine exams, cleanings, and needed care. It's the best way to keep those little teeth from "going extinct" too soon!
If you have questions or concerns about your child's baby teeth, please call our office to schedule a consultation. You can read more in the Dear Doctor magazine articles "Importance of Baby Teeth" and "Early Loss of Baby Teeth."
By Central Florida Cosmetic & Family Dentistry
December 03, 2018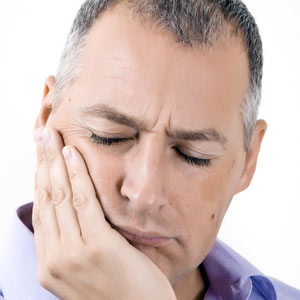 Chronic pain can turn your life upside down. While there are a number of disorders that fit in this category, two of them—fibromyalgia and temporomandibular disorders (TMD)—can disrupt your quality of life to the extreme. And it may be the two conditions have more in common than similar symptoms—according to one study, three-fourths of patients diagnosed with fibromyalgia show symptoms of TMD.
To understand why this is, let's take a closer look at these two conditions.
Fibromyalgia presents as widespread pain, aching or stiffness in the muscles and joints. Patients may also have general fatigue, sleep problems, mood swings or memory failures. TMD is a group of conditions that often result in pain and impairment of the temporomandibular joints that join the jaw with the skull. TMD can make normal activities like chewing, speaking or even yawning painful and difficult to do.
Researchers are now focusing on what may, if anything, connect these two conditions. Fibromyalgia is now believed to be an impairment of the central nervous system within the brain rather than a problem with individual nerves. One theory holds that the body has imbalances in its neurotransmitters, which interfere with the brain's pain processing.
Researchers have also found fibromyalgia patients with TMD have an increased sensitivity overall than those without the conditions. In the end, it may be influenced by genetics as more women than men are prone to have either of the conditions.
Treating these conditions is a matter of management. Although invasive techniques like jaw surgery for TMD are possible, the results (which are permanent) have been inconclusive in their effectiveness for relieving pain. We usually recommend patients try more conservative means first to lessen pain and difficulties, including soft foods, physical therapy, stretching exercises and muscle relaxant medication. Since stress is a major factor in both conditions, learning and practicing relaxation techniques may also be beneficial.
In similar ways, these techniques plus medication or cognitive-behavioral therapy that may influence neurotransmission can also help relieve symptoms of fibromyalgia. Be sure then that you consult with both your physician and dentist caring for both these diseases for the right approach for you to help relieve the effects of these two debilitating conditions.
If you would like more information on managing TMD or fibromyalgia, please contact us or schedule an appointment for a consultation. You can also learn more about this topic by reading the Dear Doctor magazine article "Fibromyalgia and Temporomandibular Disorders."