Posts for: May, 2013
By Central Florida Cosmetic & Family Dentistry
May 30, 2013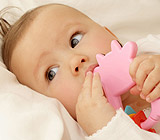 Throughout your child's lifetime, you will experience many important milestones together, some more pleasant than others. Teething is one of those notable milestones, and unfortunately, this "rite of passage" may cause your baby to feel uncomfortable at times.
Teething describes the tooth eruption process by which baby teeth emerge through the gums and into the mouth. It usually begins when your baby is between six and nine months, but may start as early as three months or as late as twelve months. Most children will have all 20 baby teeth by agree three, with the lower front teeth erupting first, followed by the two upper front teeth and then the molars.
Every baby will experience teething differently, but the following symptoms are very common:
Irritability
Biting and gnawing
Gum swelling
Chin rash
Disrupted sleeping patterns
Ear rubbing
Drooling
Decreased appetite
Many babies make it through the teething phase without much discomfort, but sometimes the pain can be substantial. If your baby is lucky enough to experience no discomfort, he or she will likely demonstrate some of the classic symptoms of teething, such as swollen gums and drooling. You may also notice that he or she will bite or chew anything and will wake up frequently during the night. These symptoms occur most often the week the teeth actually break through the gums, beginning four days before the eruption and lasting about three days after.
Here are a few suggestions to help reduce your baby's discomfort during teething:
Teething rings: The American Academy of Pediatric Dentistry (AAPD) recommends that parents use a clean, chilled, rubber teething ring or cold wet washcloth.
Chilled pacifiers: Be careful not to freeze teething rings or pacifiers, as ice can burn if left in place too long.
Gum massage: Massaging inflamed gums with your clean finger may be helpful to reduce the pressure.
Over-the-counter medicine: If pain continues, you can give your baby acetaminophen or ibuprofen, but check with a pediatrician or pharmacist for the correct dosage. The medicine should be swallowed and not massaged into the sore areas, as this, too, can burn.
Other unpleasant side-effects of teething include diarrhea, rashes and fever. Though many have reported these symptoms to be normal, if your infant has fever or diarrhea during teething or continues to experience pain, you should schedule an appointment with our office. We'll examine your baby to ensure that the discomfort is related to teething and not something more serious.
If you would like more information about teething, please contact us for a consultation. You can also learn more by reading the Dear Doctor magazine article "Teething Troubles."
By Central Florida Cosmetic & Family Dentistry
May 15, 2013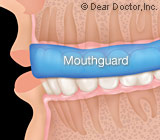 Participating in athletic activities offers numerous well-documented health benefits — not to mention instilling the intangible values of discipline, teamwork and goal-setting. Of course, in nearly every sport, the possibility of injury exists as well. But don't let that stop you or someone you love from playing! Instead, you can learn about the potential hazards of dental injury, and take some practical steps to minimize the risk.
It should come as no surprise that injury to the mouth is an ever-present possibility in so-called "collision" sports like football and ice hockey. But did you know that the greatest number of dental injuries result from the games of baseball and basketball, which are often played informally? Even non-contact sports like skiing, bicycling and skateboarding carry a real risk of injury.
Who suffers dental injury? Men are slightly more likely than women — but only by a small percentage. Injury peaks in the teenage years, and seems to decrease afterward — but older athletes tend to have more severe problems. In short, most anyone who participates in sports is subject to possible dental injury.
Besides the obvious aesthetic imperfections, a damaged or missing tooth can also result in functional problems with the bite — a potentially serious condition. If a tooth can't be immediately replanted, restoring it can be expensive: The total cost of each tooth replacement is estimated at $10,000-$20,000 over a lifetime. So tooth damage or loss can cause a multitude of troubles.
The American Dental Association (ADA) has recommended that participants in all of the sports mentioned above — as well as two dozen others — should wear a custom-fitted mouthguard. Why? Because when it comes to dental injury, an ounce of prevention really is worth a pound of cure.
Numerous studies have shown that wearing a custom-fitted mouthguard is an effective way to prevent dental injury. According to the Academy of General Dentistry, mouthguards prevent some 200,000 injuries each year. And the ADA says that athletes who don't wear mouthguards are 60 times more likely to sustain harm to the teeth than those who do wear them.
Off-the-shelf mouthguards in a limited range of sizes are available at many sporting-goods stores. But these can't compare to the superior protection and durability offered by a mouthguard that's custom-made just for you. Using an exact model of your teeth, we can individually fabricate a piece of protective gear that fits correctly and feels comfortable in your mouth. A custom mouthguard may be more economical than you think — yet its real payoff comes in preventing dental injury.
If you have questions about mouthguards or sports-related dental injuries, please contact us or schedule an appointment for a consultation. You can learn more in the Dear Doctor magazine articles "Athletic Mouthguards" and "An Introduction to Sports Injuries & Dentistry."