Posts for: February, 2011
By Central Florida Cosmetic & Family Dentistry
February 27, 2011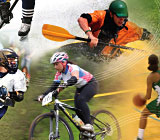 A recent study revealed that on average there are 22,000 dental injuries in children under the age of 18. This alarming reality makes it clear that parents, caregivers, and coaches need to understand the risks for dental injuries so that they are best equipped to prevent them...or at least be prepared to manage one should it occur. The four most common categories for measuring risks associated with sports injuries are:
Age: Age is an important factor when accessing risk. Sports-related dental injuries tend to spike during the teenage years. Recent research shows that children under the age of 13 tend to not be injured as often.
Gender: Gender is probably the second most influential factor. The facts are that males top the list for experiencing dental injuries during sports or vigorous activities. However, more and more females are playing highly competitive and contact sports or activities; thus, their risk of injury is increasing.
Shape and position of your teeth: Both the condition and positions of the teeth affect their risk of injury. More prominent or "buck" teeth are considered a higher risk for injury than teeth in a more normal position. Furthermore, 80% of all dental injuries involve the upper front teeth.
Sports type: This last category is the one most often asked about, as parents, caregivers and athletes want to know which sports or activities have the highest risks for dental injuries. And while baseball and basketball top the list, the American Dental Association (ADA) has put together a comprehensive list of sports and activities. To review this list, read the Dear Doctor article, "Athletic Mouthguards." The ADA also urges athletes to wear professionally-fitted mouthguards to protect against dental and facial injuries.
Knowing the above categories can help you assess your risk for a dental injury while playing in a sport or recreational activity. To learn more about sports-related dental injuries, read, "An Introduction To Sports Injuries & Dentistry." Or if you have a traumatized, damaged, chipped or missing tooth from a sports or any other type of injury, contact us to discuss your situation or to schedule an appointment.
By Central Florida Cosmetic & Family Dentistry
February 20, 2011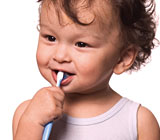 Ensuring that your children have good oral health is (or should be) the goal of every parent or caregiver. But how confident are you about this topic? The following true/false quiz will help you evaluate your expertise while learning more about keeping your child's teeth healthy.
Questions
All children older than 6 months should receive a fluoride supplement every day.
Parents should start cleaning their child's teeth as soon as the first tooth appears.
Parents should start brushing their child's teeth with toothpaste that contains fluoride at age 3.
Children younger than 6 years should use enough toothpaste with fluoride to cover the toothbrush.
Parents should brush their child's teeth twice a day until the child can handle the toothbrush alone.
Young children should always use fluoride mouthrinses after brushing.
Answers
False. Check with your child's physician or dentist about your children's specific fluoride needs. If your drinking water does not have enough fluoride to help prevent cavities, parents of a child older than 6 months should discuss the need for a fluoride supplement with a physician or our office.
True. Start cleaning as soon as the first tooth appears by wiping the tooth every day with a clean, damp cloth. Once more teeth erupt, switch to a small, soft-bristled toothbrush.
False. Parents should start using toothpaste with fluoride to brush their children's teeth at age 2. Only use toothpaste with fluoride earlier than age 2 if the child's doctor or our office recommends it.
False. Young children should use only a pea-sized amount of fluoride toothpaste. Fluoride is important for fighting cavities, but if children younger than 6 years swallow too much fluoride, their permanent teeth may develop white spots. Using no more than a pea-sized amount of toothpaste with fluoride can help prevent this from happening.
True. Because children usually do not have the skill to brush their teeth well until around age 4 or 5, parents should brush their young children's teeth thoroughly twice a day. You should continue doing this until the child can demonstrate a proper brushing technique.
False. Fluoride mouthrinses have a higher concentration of fluoride than toothpaste containing fluoride. Children younger than 6 years of age should not use fluoride mouthrinses unless your child's doctor or our office recommends it. Young children tend to swallow rather than spit it out, and swallowing too much fluoride before age 6 may cause the permanent teeth to have white spots.
Learn More
If you feel you missed too many of the above questions, read the Dear Doctor article, "Oral Hygiene Behavior."